i love, love, love the leather skirts that are in style right now. let's face it, leather just looks cool. it will go with a lot and it is instantly stands out. it basically says "i wear what i want" to the world. wear it with white and you'll be wearing two fall trends. pretty easy! go faux to save on costs and be kind to our animal friends.
there are so many cuts you can wear to suit your comfort level. if you're afraid that leather is too tight on your curves, look no further than curvy celebs like kim kardashian who definitely pull this off! (side note: you should probably not allow your significant other to weather matching leather pants when you do this - i'm talking to you, kanye). the point is you should show off those curves but if not...you can always try a looser cut (skater or a-line), which will look just as cool.
inspiration:
jessica alba in a very cool skater leather skirt;
kristin cavallari looking polished and beautiful in a high waisted leather skirt;
diane kruger in this black leather skirt at the calvin klein show at NYFW

what & where to buy:
pleated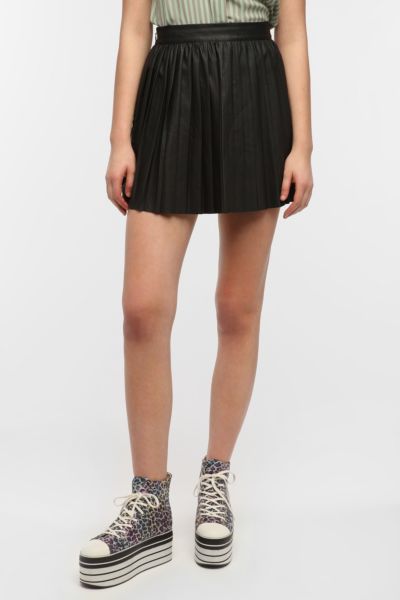 a-line knee length
skater
Nasty Gal Varsity Moto Skirt; $78
looking for something cheaper? you can count on forever21 and lulu's having similar styles - this is very popular trend!
be brave & wear (faux) leather! - linds